Non-Woven Fabric Factory Wes Mir LLC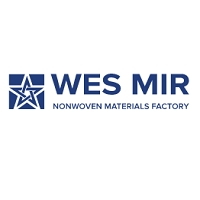 Region: Moscow region
Personnel: 250÷1000
Specialization: non-woven Materials and products made from them, including parts for the automotive industry. Wes Mir is one of the leading suppliers in the market of noise insulation materials, the manufacturer of KeepTek® noise protection for the automotive industry and modern architectural solutions for the construction industry, meeting international industry standards and offering the most advanced technological solutions.
Products: http://www.wesmir.com/katalog/
the factory produces a wide range of materials for use in a variety of fields: the production of upholstered furniture, bedding, and outerwear, the automotive industry, and sound and heat insulation of houses during construction, filtration and air conditioning.
Technologies:http://www.wesmir.com/katalog/keeptek/
KeepTek® is a high-tech non-woven material for noise insulation. KeepTek® is made from 100% polyester fibers, including ultra-thin ones, bonded without the use of glue and phenol-formaldehyde resins. It is an environmentally friendly material that is 100% safe for human health and the environment. KeepTek® has a special structure. The fabric consists of three layers, one of which is a carrier (its fibers are laid in a special vertical way with heat setting), and two others are reinforcing. This design ensures the attenuation of sound vibrations inside the layer, reduces the level of aerodynamic noise, improves acoustics. KeepTek® is not electrified due to antiseptics and antistatic treatment; the material is easy to use: it is easy to cut and stitch, does not crumble while cutting; reversible deformation with repeated compression up to 94%; elasticity of the material: it easily fits various uneven surfaces, while maintaining its insulation properties and mechanical strength; light weight of material: allows you to reduce energy consumption in the production, logistics and operation of finished products and parts.
Customers: AVTOVAZ, GAZ, PAZ, UAZ, KAMAZ, LIAZ, PTZ, MAZ, VOLGOBAS, MITSUBISHI, FORD.