KUKA Robotics LLC (Kuka AG)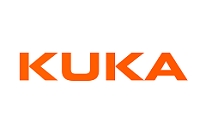 Region: Moscow
Personnel: < 30 Kuka Russia
Specialization: KUKA is one of the leading automation professionals worldwide. We offer our customers from various industries a full range of services from a one manufacturer: starting with robot components and production cells, and ending with ready-to-connect installations and network solutions based on cloud IT tools.
Products:
1. KUKA industrial robots of 4, 5, 6 and 7- axis universal, multifunctional, civilian industrial robots with simple kinematics to perform positional and contour control tasks. Depending on additional external equipment, it is used for various automation tasks, such as: processing; assembly / disassembly; putting glue; mechanical processing; laser processing; transfer and handling of blanks; palletizing / depalletizing, paint application; as a connecting device between machine tools, etc. As additional options robots can be equipped with power supplies for palletizing, milling, additional interfaces and software.
2. Mobile platforms - mobile platforms with the latest KUKA Sunrise control system and the ability to move in any direction. They allow to develop completely new, scalable and flexible principles of production organization. The platform optimizes costs using only the really necessary automation tools in the warehouse management system or when transferring blanks from one stage of the technological process to another.
3. Mobile robots KMR iiwa. In KMR iiwa, we have combined the strengths of the LBR iiwa collaborative robot (intelligent industrial assistant) and mobile autonomous platform. The mobile robotic assistant has high flexibility, is not tied to a place and is able to work in an unlimited space - all this makes it an ideal solution for implementing the requirements of the Industry 4.0 concept.
4. Friction welding machines. KUKA manufactures machines with a clamping force from 1 to 10,000 kN, able to perform the most complex friction welding processes. Pay attention to the new line of universal and compact machines - Genius series, as well as the range of specialized machines for welding non-standard parts. Working in any market, with any customers and solving a wide variety of technological tasks, KUKA's products are guaranteed to achieve the highest quality in the production of parts and components in critical areas, and also allow welding of dissimilar materials in the most unusual combinations (for example, aluminum with copper).
Technologies: welding, cutting, machining, transfer and handling of blanks, palletizing / depalletizing, painting, application of glue / sealant, machine maintenance, production logistics.
Customers: GAZ Group, AvtoVAZ, UAZ, Ford, Sollers, Volkswagen, Nokian Tires, Magna, AGC and many other automotive OEMs, and manufacturers of automotive components.