The meeting of Denis Manturov and Dmitry Azarov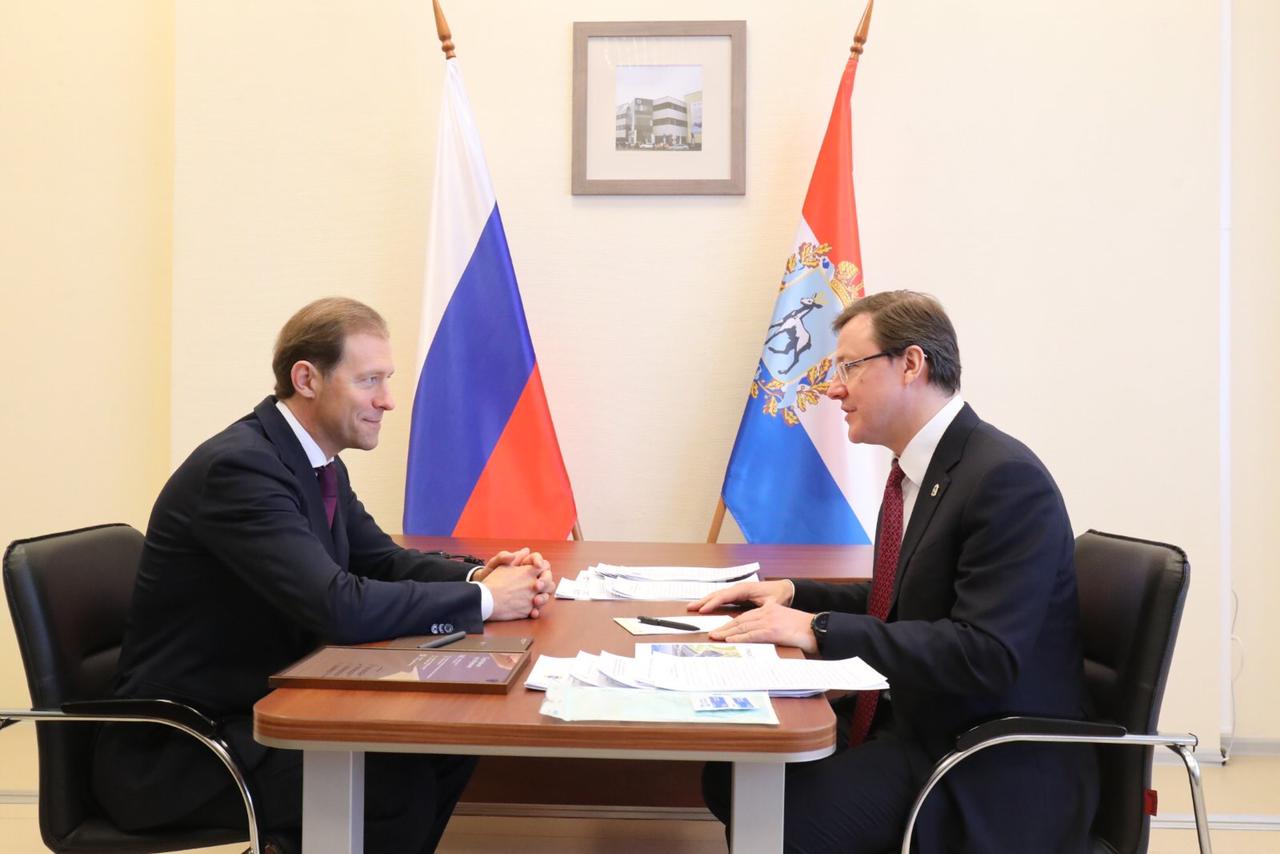 The head of the Minpromtorg Denis Manturov and the Governor of the Samara region Dmitry Azarov discussed industrial development of the Samara region during the meeting. According to the Minister, the region has great potential for further industrial growth. The region has a number of advantages: a wide range of produced goods and services, a favorable geographical location and effective support provided by the Government of the country to attract investment.
The Governor noted that the most economically and industrially developed regions suffer more from crisis period. If in 2008-2009 the gross regional product "fell" by almost 20%, then at the end of last year – considering pandemic restrictions – it was possible to prevent this. Dmitry Azarov stressed that the indicators were kept at the level of 2018, when gross regional product amounted to 1.5 trillion rubles.
"Enterprises of the Samara region have good prospects for further development. Under the Industrial Development Fund, we have 15 projects implemented in the region, more than 6 billion rubles of preferential loans. Six projects have already reached the declared production capacity. Therefore, I expect that the industrial production potential will be intensively developed," said Denis Manturov.
In order to analyze all tasks, a representative delegation of the Minpromtorg – the heads of almost all industry departments have been working in the region for two days. The task is to assess the effectiveness of existing support measures and develop new ones, and quickly make a set of decisions.
The Governor Dmitry Azarov thanked Denis Manturov for his special attention to the Samara region and fruitful cooperation. "Today, we have the de facto meeting of the Minpromtorg dedicated to the problems of our region. It will definitely give the impetus to the development of many enterprises and industry in the region as a whole. Preferential loans, support for our enterprises for accreditation and certification, for promotion in the market – all these have had a very positive impact on the development of our new technology companies, small and medium-sized businesses that are currently engaged in industrial production," said the Governor.
Alsо, Dmitry Azarov thanked the Minister for the support of the domestic car industry, in particular, AVTOVAZ, its employees and their families. "AVTOVAZ received enormous assistance last year thanks to the decisions of Vladimir Putin, that had been prepared by the Minpromtorg. All support measures that were implemented, allowed to keep on the production and sales of cars, despite all the difficultie. AVTOVAZ even expanded the market segment last year," added the Governor.
In addition to the automotive industry, last year the Minpromtorg provided significant assistance in protecting doctors and the citizens from the threat of the coronavirus infection. The Minpromtorg provided a significant support to our region as a whole.
Original article on the website: Government of the Samara region.