Mobis business visit to the Samara region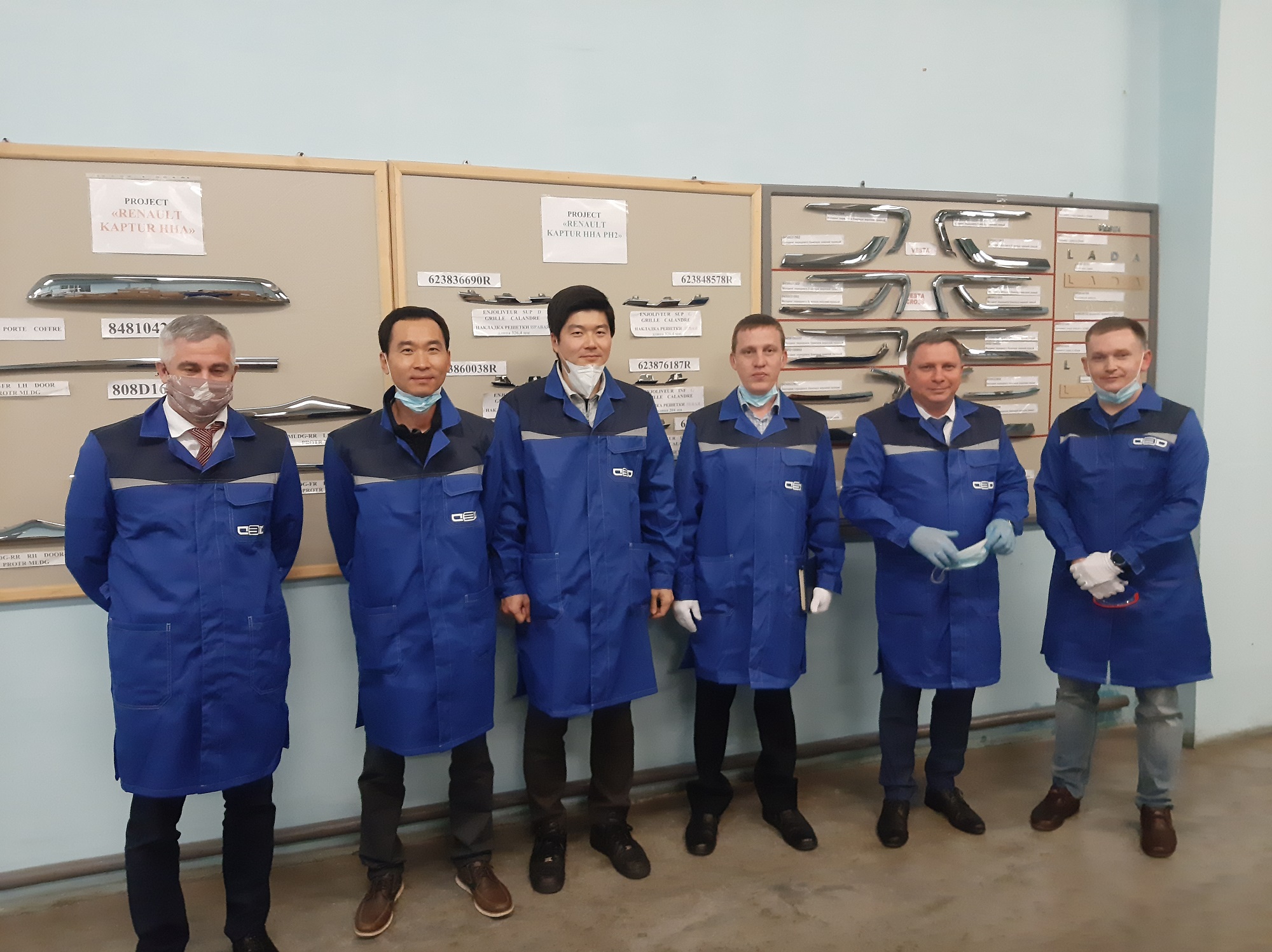 On November 19-20, 2020, the Cluster organized a visit of 4 representatives of MOBIS MODULE CIS to the Samara region. During the negotiations, there were visited several enterprises, such as SED (Syzran), Region Volga and Rosavtoplast (Togliatti). Also, there were held individual negotiations with the Heads of these enterprises and discussed the issues of further business relations development.
On November 19, Mobis representatives visited the Cluster member - SED company (Krista group). The company produces exterior, interior and plastics engine compartment products for the automotive industry, protective and decorative coatings for metal and ABS plastic products. Today, the company is the only one in Russia that has the coating products technology made of ABS plastic with three-and hexavalent chromium.
During the negotiations, Mobis representatives were interested in further cooperation with the SED, also, provided a number of samples of their products (radiator grille, bumper, chrome exterior linings) to analyze potential localization to Syzran enterprises. Both sides expressed their readiness to conclude a non-disclosure agreement, which is the next step for the cooperation development. In the future, Mobis will send a specific RFQ (request for quotation) to work out potential localization projects.
On November 20, they visited Region Volga that is also part of the Krista group of companies and is a Cluster member. The company was founded in 1997 and specializes in manual painting of plastic interior and exterior products. Special paint chambers are used for applying coatings to products of various customers, such as Lada West Togliatti, Prisma, Motor-Super, etc. During the visit, Mobis specialists got acquainted with the process of bumpers and moldings colouring and held talks with the company's management. An RFQ will also be sent to the Region Volga.
At the end of the business trip, Mobis specialists visited Rosavtoplast which specializes in the production, development and sale of thermoplastic composite materials based on polypropylene, polyamides 6 and 66, polyesters and polyvinyl chloride. Rosavtoplast (founded in 2003) is equipped with modern, European, high-performance technological and laboratory equipment, has production and engineering staff with a total number of more than 120 people.
As a whole, Mobis noted a satisfactory production level of the visited enterprises and, generally, a high business trip organization. There is planned further development of components and materials localization. The Cluster of automotive industry will continue to facilitate communication between Russian suppliers and potential customers.
Reference: Mobis, founded in July 1977, is part of the Hyundai&Kia group of companies and is the largest company in South Korea for the development, production and distribution of automotive components for Hyundai and Kia vehicles. MOBIS MODULE CIS located in Saint Petersburg is the 15th foreign Mobis plant that produces modular components. Vehicle parts, such as control panel, console, front and rear bumpers, etc. are produced on assembly, painting and plastic injection molding lines.