Kiekert Supplier Day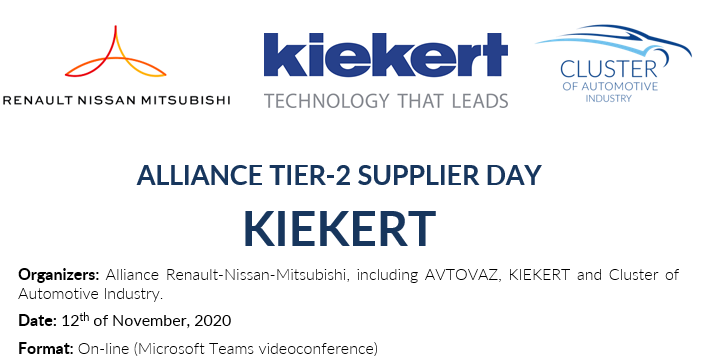 On November 12, Kiekert Supplier Day took place in the format of a video conference followed by B2B. The event was organized by the Cluster of Automotive Industry, Alliance Renault-Nissan-Mitsubishi and Kiekert.
Global supplier Kiekert specializes in car locking systems (door latches, external and internal handles). The company has 12 factories and more than 5,000 employees worldwide. In Russia Kiekert is represented by an enterprise in the Republic of Tatarstan, Naberezhnye Chelny city. The production of Kikert Rus was launched in 2014 and currently employs about 50 people.
38 representatives from 24 suppliers from 12 regions of the Russian Federation attended the Supplier Day.
The program of the event consisted of a general part in the format of a video conference, including welcoming words from Regional Commodity Manager Body & Electrical Russia of APO RUS Evgeny Usachev, purchasing manager of Kiekert Ildar Smirnov, and general director of the Cluster of Automotive Industry Andrey Kraynov, presentation of Kiekert's plans for localization in Russia, requirements for tier-2 suppliers and online B2B negotiations.
During b2b part, Kiekert team represented by purchasing Manager Ildar Smirnov, quality Manager Kseniia Strygina, global purchasing manager Klara Tydlitova, global supplier quality engineer Roman Prosvirin held 23 online meetings with suppliers. According to the preliminary results of the event, Kiekert marked more than 10 suppliers, with whom more profound study of localization will be carried out.