EUROSTYLE SYSTEMS Supplier Day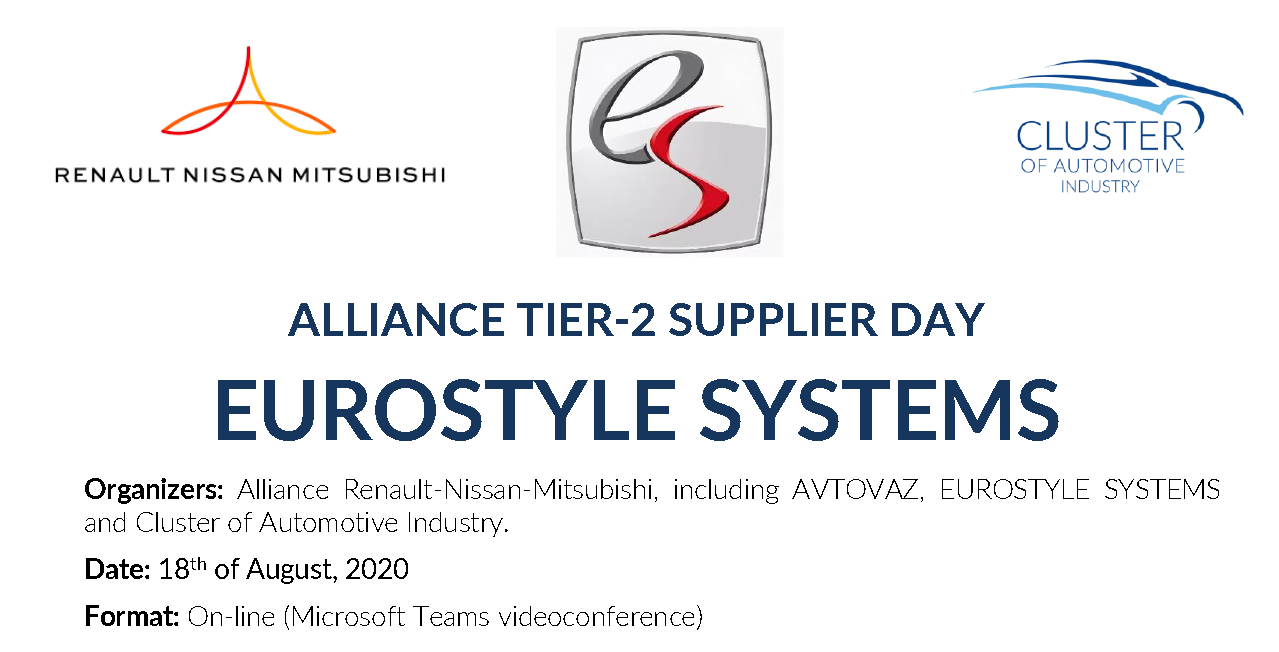 On August 18, EUROSTYLE SYSTEMS Supplier Day was held in the format of a video conference followed by separate negociations. The event was organized by the Cluster of Automotive Industry, Alliance Renault-Nissan-Mitsubishi and EUROSTYLE SYSTEMS.
The global supplier EUROSTYLE SYSTEMS specializes in the production of plastic and leather products. In total, the company has 14 factories and 5 technical centers around the world. In Russia, it is represented by an enterprise in the city of Klin, Moscow region. The production of Eurostyle Systems Klin LLC was launched in 2015 for Renault projects in Russia. In 2021, new projects for the production of interior and exterior parts will be launched for such customers as: Nissan, Toyota, Hyundai, and Volkswagen.
The Supplier Day was attended by 16 representatives from 13 suppliers from 8 regions of the Russian Federation.
The program of the event consisted of a general part in the format of a video conference, including welcoming words from strategy manager of APO RUS Alexander Kuznetsov, plant director of EUROSTYLE SYSTEMS Ilya Melnikov and general director of Cluster AI Andrey Kraynov, presentation of EUROSTYLE SYSTEMS and its plans for localization in Russia, online B2B negotiations.
During the negotiation part, representatives of EUROSTYLE SYSTEMS, represented by purchasing specialist Lyudmila Kraynova and sales engineer Alexander Burba held online business meetings with suppliers. Cluster specialists provided technical and organizational assistance during B2B session to the event participants.
In the final part, Ilya Melnikov and his colleagues noted the high organizational level of the event and the technical readiness of a number of companies that took part in online meetings. At this stage, a more detailed localization study will be carried out with 11 participating suppliers.