Brose: High requirements - long-term partnerships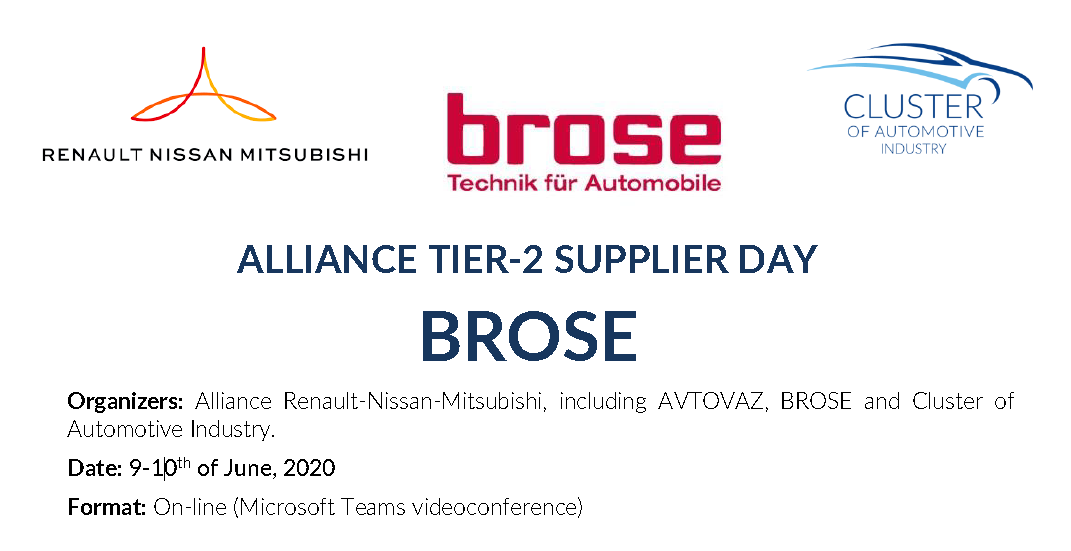 The German company Brose has more than 100 years of history and specializes in the production of mechanisms and modules of vehicle doors, frames and electric drives of seats, electric motors for cooling system. Brose has 64 subsidiaries in 24 countries, including a window lifter factory in Togliatti.
Togliatti site is a supplier of such customers as Renault, Nissan, AVTOVAZ, GAZ, DAIMLER KAMAZ.
The event with Brose was another Cluster step in the implementation of the global industry task - import substitution on the conveyors of automotive enterprises in Russia.
The conference was attended by 23 suppliers who represent both the automotive component sector and related industries. In total, 39 representatives of manufacturing enterprises attended Brose Supplier Day.
The program of the event consisted of a common part in the format of a video conference, including greetings from representatives of the Alliance and the Cluster, a presentation of Brose and its plans for localization in Russia, online B2B negotiations.
During the discussion, participants noted a drop in car sales and production in 2020 caused by the coronavirus pandemic. This fact, of course, also affected manufacturers of automotive components. Nevertheless, it is worth taking advantage of the current situation and considering all the possibilities for successful localization.
Brose company represented by Technical Director Alexander Kochetkov and Procurement Specialist Olga Aksenova held 23 online business meetings with suppliers. At the end of the event, Brose noted that an NDA will be sent to a number of suppliers in order to conduct more detailed localization study.
Similar events with other Tier-1 suppliers of the Alliance will be organized in June-July 2020.