Crisis is not a barrier for localization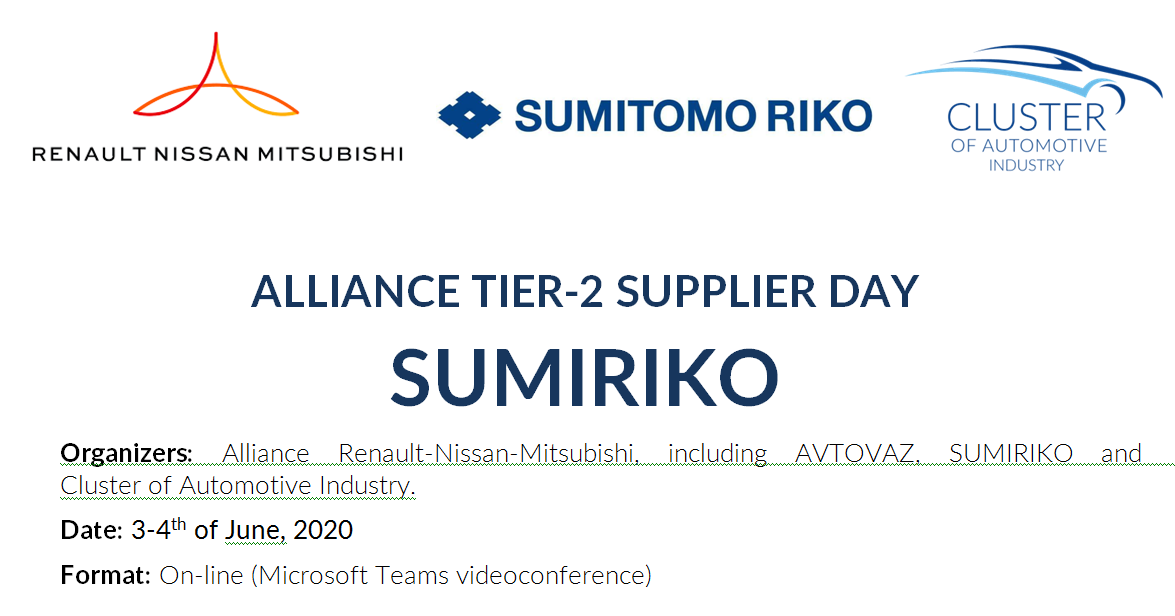 The international company Sumiriko, with its head office in Komaki (Japan), has 106 branches in 23 countries, including the plant in Togliatti, launched in 2005.
Sumiriko manufactures over 80% of products for the auto industry. The main specialization of the company in the automotive field is the manufacture of polyamide pipelines.
Sumiriko joined the Alliance Renault-Nissan-Mitsubishi Supplier Tier-2 Day as one of its 25 Tier-1 customers, and provided the Cluster with component requests to work with potential suppliers which have relevant competencies and the abilities to meet the requirements.
This is not the first time that the Cluster team has prepared for the event in the video conference format with both the customer and its potential suppliers. Preliminary test online connections with Supplier Day participants allowed the Cluster to warn most of the possible technical issues. The event in remote mode was organized in a good working atmosphere, the planned speeches and negotiations were held at a high level.
The conference was attended by 27 suppliers who represent both the automotive component sector and related industries. In total, 43 representatives of manufacturing enterprises attended tSumiriko Supplier Day.
The program of the event consisted of a general part in a video conference format, including greetings from representatives of the Alliance and the Cluster, a presentation of Sumiriko and its plans for localization in Russia, online B2B negotiations. During the meeting, Sumiriko represented by General Director Igor Sekretarev, Sales Account Russia & Truck Market Sante Donnaloia, Head of Quality Services Alexey Okunev, Head of Purchasing EMEA Fabio Rizzo, Head of Procurement Anton Maslov, lead technologist Sergey Zozulenko held 25 online business meetings with suppliers. According to preliminary results of the event, Igor Sekretarev noted 2/3 of the suppliers to whom the NDA will be sent in order to conduct more detailed localization study.
During June-July 2020, the Cluster plans to conduct similar events with other Tier-1 suppliers of the Alliance.