SCHAEFFLER SUPPLIER DAY organized online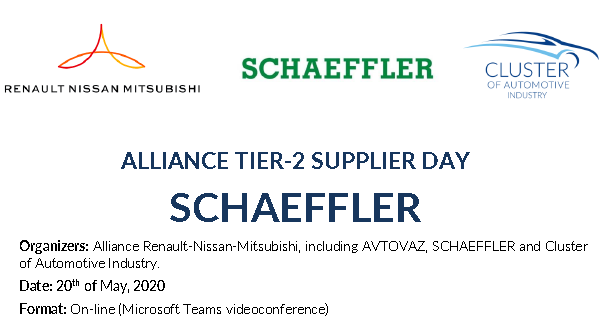 Cluster of automotive industry, Alliance Renault-Nissan-Mitsubishi, as well as a number of its Tier-1 suppliers, decided to organize separate business events in the form of remote communications due to the inability to hold outstanding Supplier Day because of COVID-19 spread. On May 20, in this connection, Shaeffler Supplier Day was organized in a video conference format and separate B2B.
The global component manufacturer Shaeffler has 170 subsidiaries in 50 countries, 20 R&D centers, 75 factories, including an enterprise in Ulyanovsk.
The company's main product line includes chassis components and systems, clutch and transmission technologies, as well as engine components and drives for hybrid and electric vehicles.
At the beginning of the year, Shaeffler decided to join the Alliance Renault-Nissan-Mitsubishi Supplier Tier-2 Day as one of its 25 Tier-1 customers, and provided the Cluster with component requests to work with potential suppliers which have relevant competencies and the abilities to meet the requirements.
Taking into account the restrictions on mass events due to the spread of coronavirus infection, it was decided to organize a separate Shaeffler Supplier Day in a video conference format. Preliminary test online connections with the participants of the Supplier Day allowed the Cluster to warn most of the possible technical issues, and the event took place remotely in normal mode, all the planned speeches and negotiations were held at a high organizational level.
The conference was attended by 20 suppliers who represent both the automotive component sector and related industries. In total, 30 representatives of manufacturing enterprises attended Shaeffler Supplier Day.
The program of the event consisted of a general part in the form of a video conference, including greetings from representatives of the Alliance and the Cluster, a presentation of Shaeffler and its plans for localization in Russia, online B2B negotiations. During the meeting, the representative of Shaeffler represented by the Head of the purchasing service Alexander Leonov, purchasing specialists Victoria Krasnova and Sergey Navoznov took part in 20 online business meetings with suppliers. According to preliminary results of the event, Shaeffler noted 11 suppliers with which a more detailed localization study will be carried out.
Similar events with other Tier-1 suppliers of the Alliance are planned by the Cluster in May-June 2020.