Another PSA GROUPE SUPPLIER DAY was held online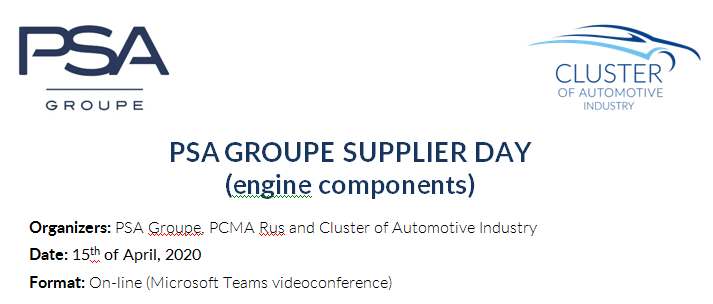 The global car manufacturer PSA Groupe has been planning the localization of the assembly and production of DV6 diesel engines at PCMA RUS plant in Kaluga since 2021. In this regard, PSA Groupe, in partnership with the Cluster of Automotive Industry, searched for potential suppliers of components for these engines in various regions of the Russian Federation, where located companies which meet the requirements and needs of the French automaker.
The companies that were invited to the Supplier Day received the needs of PSA Groupe with a description of the components and estimated annual consumption of each particular part from 2021 to 2025.
Given the current situation prohibiting the holding of mass events in connection with the spread of coronavirus infection, it was decided to hold the Supplier Day in a video conference format. Preliminarily, on April 13 and 14, the Cluster and PSA Groupe conducted online test with suppliers, where the connection was checked, and also gave the recommendations how to participate and conduct b2b remotely.
As a result, online video conference brought together 33 suppliers which represent both the automotive component sector and related industries. In total, 52 representatives of production enterprises attended the PSA Groupe Supplier Day.
The program of the event consisted of a general part in a video conference format, including a presentation of PSA Groupe and the company's plans for localization in Russia and on-line B2B negotiations. Previously, related media materials were sent to suppliers - a presentation of the DV6 diesel engine assy and its components, as well as an additional video.
During the presentation part, welcoming words were made by: Andrey Kraynov, General Director of Cluster of Automotive Industry, Benoit MEUTELET, Engine project leader Eurasia, PSA Groupe, Andrey LIFANOV, Program Purchasing Manager – Engine, PCMA Rus.
During the business part, PSA Groupe representatives held 33 business meetings with suppliers.
The PSA Groupe Supplier Day in a video conference format was held in a no less active business atmosphere than similar events regularly organized by the Cluster with the personal presence of car manufacturers' representatives and their potential suppliers. In the future, the Cluster team will use the experience of the online event to organize other business events with Cluster members and partners.