Cluster participated in ExpoElectronica / ElectronTechExpo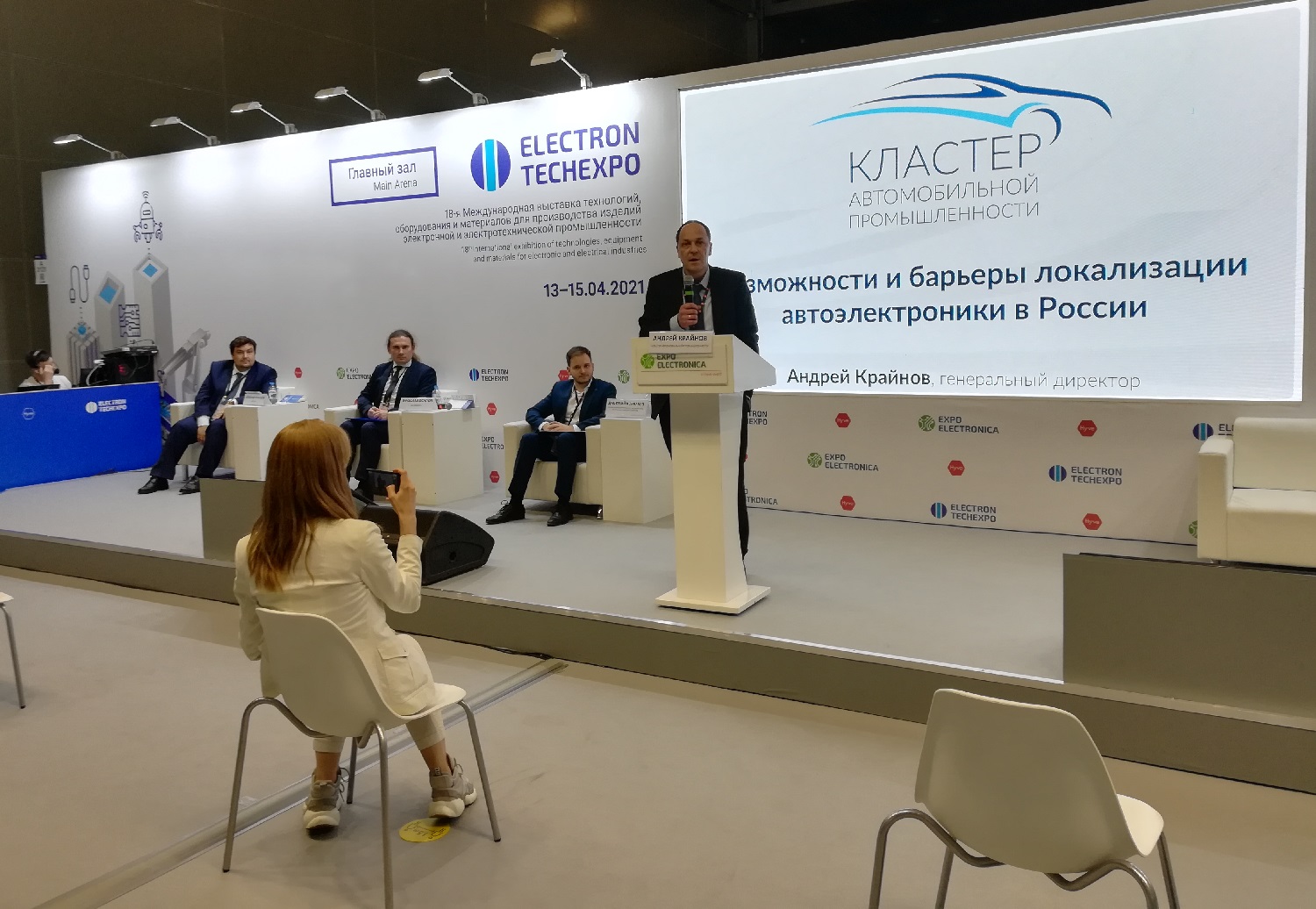 On April 13-15, 2021, the largest international exhibitions ExpoElectronica and ElectronTechExpo were held at the IEC Crocus Expo in Moscow. More than 280 companies from 9 countries took part in exhibitions and presented their latest developments and current technologies. Also, there was organized a business program, consisting of presentations of leading industry expertsand market leaders.
"High-quality Russian car electronics – the basis of a highly localized automotive industry" conference was organized with the support of the Cluster of Automotive Industry and the Association "Consortium of automotive electronic elements and telematics".
The conference was attended by Deputy Minister of Industry and Trade of the Russian Federation Vasily Shpak, Deputy Director of the Department of Automotive Industry and Railway Engineering of the Ministry of Industry and Trade of the Russian Federation Dmitry Chernov, Executive Director of the Association "Consortium of Enterprises in the Field of Automotive Electronic Devices and Telematics" Dmitry Kornachev, Deputy Chairman of the Federation Council Committee on Economic Policy Konstantin Dolgov, Deputy Chairman of the Committee on Economic Policy, Industry, Innovative Development and Entrepreneurship, State Duma of the Federal Assembly of the Russian Federation Denis Kravchenko, Strategy Manager of the Strategy and Risk Management Department of APO RUS (RENAULT-NISSAN-AVTOVAZ) Alexander Kuznetsov, Deputy General Director of NPP ITELMA Sergey Sharov, Head of the working group of JSC NIIET Vyacheslav Osipov and General Director of the Cluster of Automotive Industry Andrey Kraynov. The conference moderator – Dmitry Batakov, Director of the Association "Consortium of automotive electronic elements and telematics".
Andrey Kraynov, General Director of the Cluster AI made a presentation on "Opportunities and barriers to localization of automotive electronics in Russia". In his report, he touched the topic of the current state of automotive electronics localization in the Russian Federation and outlined the points of its future growth, considering state support measures.
The experts discussed measures taken by the Government of the Russian Federation to support the automotive industry, which can significantly stimulate the electronic industry in the country. A modern car is a complex of electronic devices, that require lots of components – the focus on their production can contribute to the industry development. The participants of the meeting presented their views on such topic and made proposals for the formation of a state policy to support this initiative.
During the exhibition, the Cluster held a number of business meetings with representatives of the following companies: GS Group, Ostec, Result, Angstem, OKB MEL, ELARA, MSTATOR, Rikor Electronics, Erikon, Elecond, NIIET, Kvartz, Balt-Optim, Technotech, MicroEM, Макро EMC, Milandr, Micran, RADIOTECH, AXION, A-Contract, GRPZ, С-Component, Progress, etc. At the meetings, there were discussed further steps to develop interaction and cooperation between the Cluster and these companies.
ExpoElectronica is a meeting point for the leaders of the electronics industry, covering the full cycle of electronics production and making conditions for development of the radio-electronic industry as a whole.