Denis Manturov and Dmitry Azarov visited the AKOM stand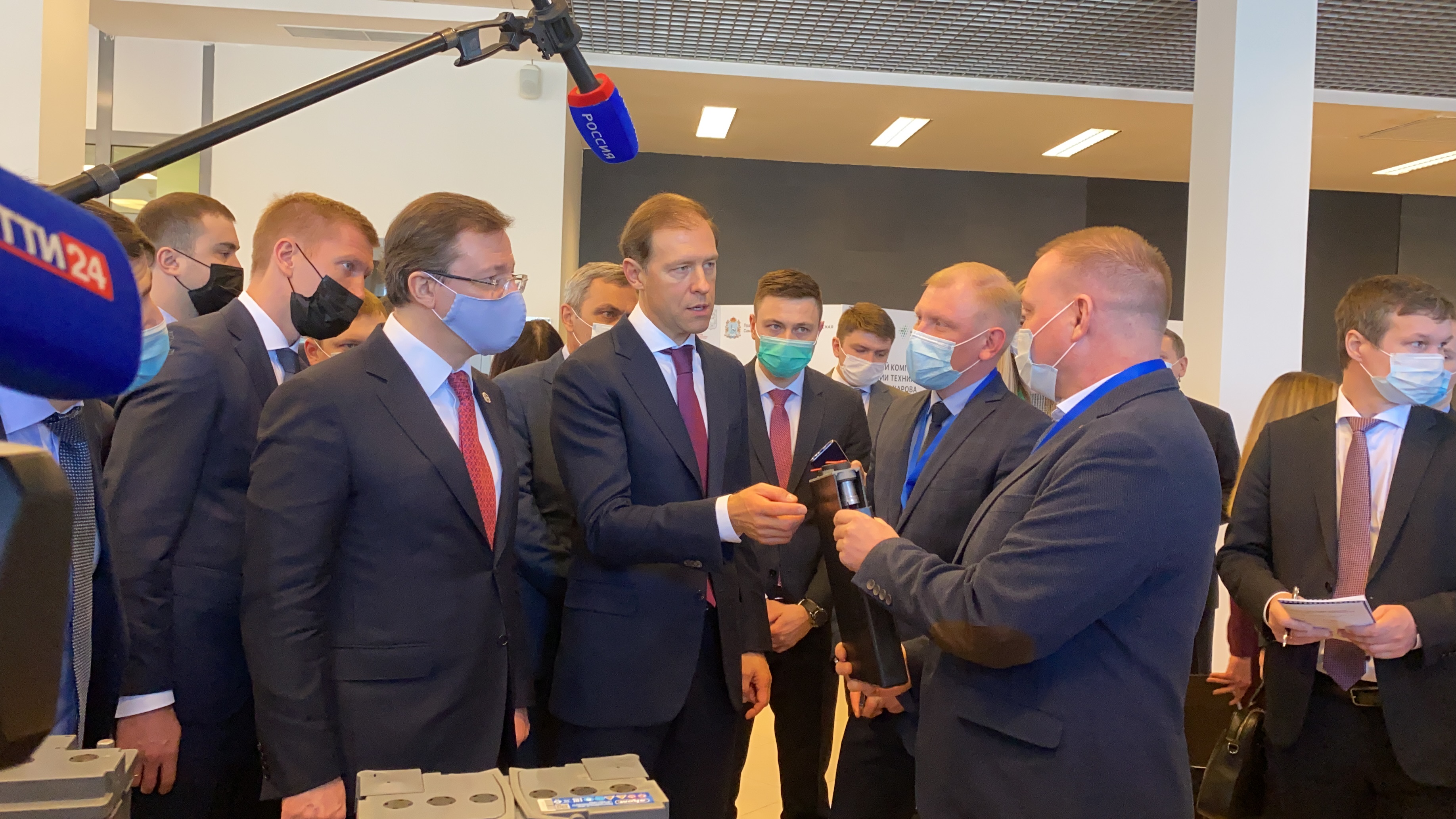 On March 18, 2021 the head of the Minpromtorg Denis Manturov and the Governor of the Samara region Dmitry Azarov visited the exhibition exposition of regional enterprises in the Technopark Zhigulevskaya Valley.
One of the exhibitors was the Group of companies AKOM. JSC Battery plant named after N.M. Ignatiev – AKOM is the main enterprise which is included in the lists of system-forming organizations at the regional and federal levels.
During the exhibition, the management of AKOM demonstrated innovative import-substituting products. There is no full-cycle production in Russia and the share of imports is 90 %.
AKOM named after N. M. Ignatiev developed lead batteries with gel electrolyte as independent power sources, as well as components as part of vehicles, special electric vehicles and infrastructure facilities. The battery life is 12 years, taking into account extreme conditions, it has a high safety of operation, does not require maintenance. Earlier, the Ministry of Industry and Trade of Russia supported this technology in order to include it in the list of modern technologies.
Maintenance-free PzV battery is the product of the ongoing project of AKOM-Industrial LLC realized with the support of the Industrial Development Fund and partnership with the world leader in the industrial batteries field − Eternity Technologies (UAE).
The cells are used in a unique system of electric energy storage with a charge control and control unit (power unit) developed by its own scientific and technical center, which has no analogues in the Russian Federation and abroad. Two power unit prototypes are tested in the Kuibyshev Railway and further usage for JSC RZD.
The project of AKOM-Industrial LLC also includes the production of gel and filled traction and stationary battery cells OPzS, OPzV, PzS that are used for loaders, energy and transport infrastructure facilities.
The Minister highly appreciated the industrial potential of the region as a whole. AKOM contributes to the development of the region, producing domestic high-tech products and replacing imports, with the support of the Governor of the Samara Region and the regional Government.
The press release was provided by AKOM.